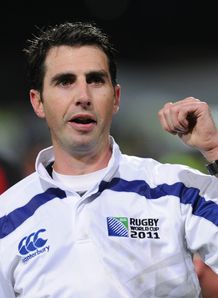 Craig Joubert from South Africa has been chosen to referee the Rugby World Cup Final between France & New Zealand with Allain Rolland (Ire) as AR1 and Nigel Owens (Wal) as AR2. Dave Pearson (RFU) will take the role of 4th official, and Guillio de Santis (Ita) as TMO.
With this appointment Craig Joubert has made Rugby World Cup history by being the only person to have refereed a game in every stage of a single tournament.
We at RugbyRefs.com would like to congratulate Craig and his team on their appointments.
Bronze Final


Wayne Barnes from England has been selected to referee the Bronze Final between Wales & Australia with Roman Poite (Fra) as AR1 and George Clancy (ire) as AR2. Bryce Lawrence (NZ) will take the roll of 4th official and Shaun Veldsman (RSA) will be the TMO.
Once again congratulations to all for their appointments, we hope you have a good game.