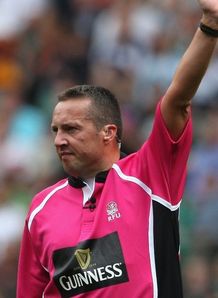 ENGLISH referee Dave Pearson has become the first Elite Referee Coach appointed by the Six Nations.
Pearson has spent 10 years in the RFU Professional Referee Unit, refereeing over 300 senior games including 29 Tests, and will join on October 8, 2012.
Jon Davis, Six Nations Tournament & Operations Director, said "We are very pleased to have Dave on board in the role, particularly given his up-to-date experience at the top level of refereeing. Dave's primary role will be to raise the standard and quantity of elite referees across the Six Nations. "Dave will work closely with Donal Courtney, ERC Match Official Performance Manager, who played an important part in the recruitment process and together they will be working towards a common philosophy for coaching elite match officials across the Six Nations."
Dave Pearson said: "Referee coaching is where I always saw myself going after refereeing at the top level and this is the perfect job for me. Although it has perhaps come a little sooner than I had anticipated, I'm extremely excited about taking the new role on and working for Six Nations".
John Feehan, Six Nations CEO, commented: "This appointment represents a significant investment and recognition by the Six Nations Council of the importance of supporting refereeing at the top level in our territories. I look forward to having Dave as part of the team and to seeing an improvement in the overall numbers of the top referees representing the Six Unions."
RFU Head of Professional Referee Development Ed Morrison said: "While never anticipating Dave Pearson moving from active refereeing at this early stage, the referee coaching role within the Six Nations affords him a wonderful opportunity move to the next stage of his working life. "Dave brings with him a wealth of refereeing knowledge, having operated at the highest level of the game for some years. He will be missed by all his colleagues here at the RFU but at the same time everyone will join me in wishing him every success in this exciting new role."
We at RugbyRefs.com wish Dave Pearson every success in his new role.