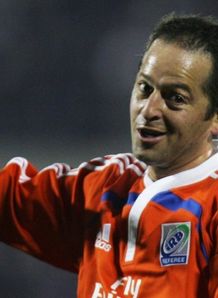 Jonathan Kaplan, the world's most capped Test referee ever, has made it known that his professional refereeing career will come to an end at the end of 2013. It has been a sparkling career with many a record..
Kaplan, who after 21 years on South Africa's panels, has several records - more Tests (68) than anybody else, more Super Rugby matches (99) than anybody else, more Currie Cup matches (150) than anybody else. His Test career is over but he is still on SANZAR;s panel of Super Rugby referees and still on South Africa's top panel. He is looking slimmer, trimmer and fitter than ever. Recently he passed the demanding fitness Test in Sydney on the Friday, flew home and then passed the demanding South African fitness test in the Bosveld on the Monday.
Kaplan has been to four Rugby World Cups, refereed three Super Rugby Finals and five Currie Cup Finals.
It has been a glorious career which has demanded great dedication from him.He says of his career: "Rugby has been my life for the past few decades and I've made the decision with a tinge of sadness, But the time has come to move on and make way for the young referees we have coming through in South Africa.
"I've had an incredible career, and I'd like to thank both SARU and the IRB for the opportunities they have given me.
"I've always prided myself on having the best interests of the game at heart and being brave enough to try and get the best out of every game in which I have been involved. I'll miss my front row seats on the big stage."
What he says is true as anybody who has seen him referee a schools match will know only too well. Fortunately, he is not lost to that, but the toll of travel and the pressure of refereeing at the top are terrible.
André Watson, South Africa's refereeing boss and for a long time a colleague of Kaplan's said: "Jonathan's record speaks for itself but I would like to mention that it was pleasure refereeing with him for a long time. He brought to rugby the 'players referee' and I will always remember him for this. His unobtrusive style, yet fully in control is what every young aspiring referee should try and imitate. He may be retiring as an active referee, but his impact will linger on."
Jurie Roux, SARU's CEO, said: "Jonathan has been one of the world's best referees for a very long time now and has been a credit not only to South African rugby but the profession of refereeing,ARU.
"His calm control of matches set the standard and you knew that if Jonathan Kaplan was in charge, the players would be allowed to express themselves. We'll be sorry to see him go but we respect his decision.
Kaplan will complete his century of Super Rugby matches when he takes charge of the Cheetahs match against The Sharks in opening South African round of Super Rugby.
Kaplan, who was born in Durban, started refereeing when a schoolboy at King David in Johannesburg at the age of 17, too young to drive a car. His mother or his grandmother would take him to matches and meetings.While doing his army training he was a member of the Northern Transvaal referees' Society. While studying at UCT, he was a member of the Western Province Referees' Society, which he is again now after some time in the Natal Referees Society and the Boland Referees' Society.
He says: "I'd like to thank my special family, and friends for walking this journey with me and the public for their generous and unwavering support. It has been an incredible ride and I have made some great friends across all cultures and experienced some unique moments through rugby.
"I'd like to remain involved in the game if at all possible, quite in what capacity I am not sure at this stage."
Obviously a man of his experience and skill has a great deal to offer refereeing in South Africa which is so highly respected throughout the rugby world.